Apparently one DW Mitchell said in 1862 that "to put myself in a position in which every wretch entitled to a vote would feel himself privileged to hold me under special obligations would be giving rather too much pork for a shilling." (David Silverberg, quoted in David S Sorenson's Shutting Down the Cold War). While the US may be the ancestral home of pork barrel, the economic and cultural significance of pig production in other parts of the world means that the concept travels easily.
David Comfort records in Just Say Noel! A History of Christmas from the Nativity to the Nineties that in 1994 Filipino politicians and Catholic church officials put on a mammoth Christmas feast in Manila, at which they gave away 1,000 stuffed roast pigs and 500 roast calves. Having calculated that many of those present would be both unbelieving and bloated, they swooped at midnight and married 230 common-law couples who hadn't managed to get away.
There was a pre-colonial tradition in the Philippines of pig and chicken sacrifice, and lechon is still an important symbol of Christian communalism of which institutionalised corruption is but one aspect. However, rather like Fluellen's leek, pork has also provided a variety of entertainers with a means to mock aspects of Filipino life and politics. The first example of the genre I bumped into was a short piece by Kelvin King Lee satirising military unrest, but its best-known exponent is probably Pol Medina, whose Pugad Baboy (Hog's Nest) strip, published in the Philippine Daily Inquirer, could be seen as a deranged centennial take on José Rizal's anti-colonial novel, Noli Me Tangere. Eva-Lotta E Hedman notes in her highly enjoyable Philippine Politics and Society in the Twentieth Century that Pugad Baboy's cast includes
a Constabulary sergeant and a member of the Communist Party-led New People's Army, the family of an overseas contract worker in Saudia Arabia …, a corrupt politician, an aging hippy, and a Chinese immigrant with a transvestite son…
Many of the scenes depicted … are familiar ones to any resident of Manila: the insides of crowded jeepneys and buses, boulevards where car drivers encounter extortionist traffic cops or street-corner beggars, road-side beer-houses and carinderias, elementary school classrooms and doctor's offices, and the makeshift basketball courts and laundry-filled windows of countless Manila neighbourhoods.
In one story,
One of the main characters, a member of the leftist New People's Army named Ka (Comrade) Noli, leads a group of his neighbours from Manila on a tour of the Ilocos provinces. Wandering through the remote hills of the area, they stumble upon an old farmer, Ka Kwate, a man of great simplicity and self-evident 'folk wisdom' and a comrade of Ka Noh in the struggle.
The city-dwellers (accompanied by the talking dog Polgas) find themselves in series of wacky adventures with Ka Kwate, including a local land dispute with none other than Ka Damuseyn, the spitting image of the Iraqi dictator.
However,
Other scenarios take the cast of cartoon characters further afield: to the construction sites of Saudi Arabia or the remote jungles of Northern Luzon, where they encounter everything from a foreign paedophile syndicate (operating a military-protected illegal airstrip) to an 'ethnic tribe' (in need of repairs for a broken video cassette recorder).
I don't know whether Pol Medina has hatcheted Barcelona yet, but, as a good article on Barcelona Metròpolis Mediterrània points out, Filipino ties with this city go back to colonial times. In the 70s, the old community – sailors and prostitutes in the port, servants based up around the posh houses on the hills – grew as thousands of girls, many from the rural areas, made their way here to clean and wash for the increasingly wealthy local middle classes. Most of the contemporary community's organisations are run by women, and one, the Asociación de Amistad de las Mujeres Filipinas (Friendly Society of Filipina Women), is co-sponsoring a trip here by a renowned Filipino comedy act, the Pork Chop Duo, who will be appearing with Ruth Valerio at the Apolo on Paral.lel on Sunday January 11th 2004. Here's the intriguing blurb from their Live at the Rembrandt (in Amsterdam?) video:
Definitely not for those with scrupples. Filled with bawdy yet embarassingly funny green jokes. Better watched alone (or with very close friends) so you can laugh your heart out. And oh yeah, they also sing. Track List: LET IT BE ME (JOKES: MAGANDANG GABI, SIGN LANGUAGE, NAG-ABROAD DAW, MAKINARYA, IMMIGRATION, INDIA, POWER OF THE MIND, KALAPATI (PATUROK), FUNK, DAVID COPPERFIELD) * TO ALL THE GIRLS I'VE LOVE BEFORE * CRYING IN THE RAIN (JOKE: APAT NA PIPI, JOKES: FOOKIEN, TRANSLATION: CHINESE, JAPANESE, FRENCH, GERMAN, DONUTS, ILAW * MEDLEY: ONLY YOU, DON'T EVER LEAVE ME ME, MY PRAYER, YOU DON'T KNOW ME, TWILIGHT TIME, UNCHAINED MELODY, GREAT PRETENDER, THE DIARY, CRAZY, PUPPY LOVE, THOSE WERE THE DAYS, JOKE: LEBANESE * YOU'LL NEVER WALK ALONE
Many of the immigrants made their home (and some, their business) in the area around Paloma and Tigre in the Barrio Chino, and you can buy tickets (EUR40), from the Metro Remittance Center there at 52 Joaquín Costa. Just don't blame me if you don't understand what the hell the show's about.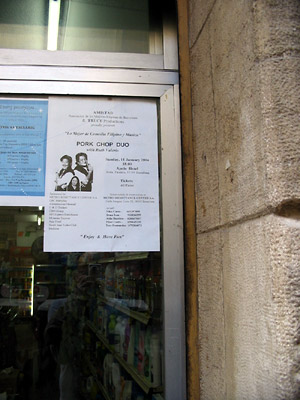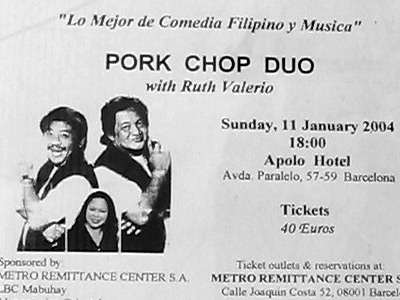 Similar posts