I listen to hear the voice of a Governor, Commander-in-Chief of the forces of Massachusetts. I hear only the creaking of crickets and the hum of insects which now fill the summer air. (Slavery in Massachusetts, 1854)
Here's a rollover before-and-after photo of one of my favourite fungi, Clathrus ruber, called ornate stinkhorn or whiffle-ball stinkhorn in English, gita de bruixa ("witch's vomit") in Catalan, and encountered on this walk and, I believe, also endemic in California: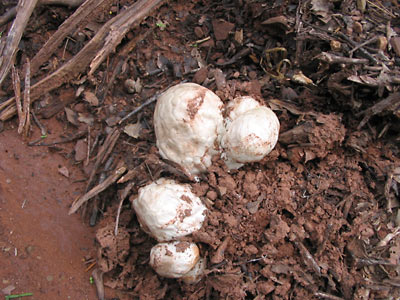 Although Clathrus ruber is merely extraordinarily repulsive rather than poisonous, one should always take mycologists seriously, given the weaponry at their disposal. John Cage seems to have been a very fine one. The University of California at Santa Cruz conceals the Cage (John) Mycology Collection, there's an interview with Steve Sweeney-Turner here in which Cage explains the relationship between mushroom hunting and his brand of Thoreauvian individualism, and, finally, there's a lovely recording of him getting up to some mushroom business here.
Similar posts