Some walkers want to have a look round a ruined factory, so conversation must be made with the security guard. He is truncheoning around with a muscular, aggressive, sleek-haired pup and a peaceful older bitch–Heinz 57 varieties with some dominant sheepdog:
–Good morning, that's a fine-looking pup you've got there. He's going to be a monster when he grows up. Look at his feet!
–He's a brute, isn't he! You're not going to believe this, but he's only two months old. A pure mix of pee-booey and raw-wyler.
–The worst there is! And the lady?
–His mother.
Ahem.
The decayed factory district of Poblenou, Barcelona is in the final throes of demolition and rebuilding, a metamorphosis that has converted it into a monument to the Iberian tribes' fascination with cheap building materials. Its prettified, airco-ed fragments of brick hall and chimneys are to How Things Were rather as an ivory trinket is to an elephant. More historical memory.
The symbiosis between demolition men and gypsy recyclers here reminds me of an anecdote told me a few years ago in Germany by a Croat with whom I did a few gigs: of how, during the Bosnian war, from his flat in the town centre he watched as the Serb paramilitaries secured a neighbourhood and then the gypsies came with donkeys and carts to remove everything of value; and of how the gypsies fled as the tide of the war changed.
There was heavy stripping yesterday opposite the old Josep Canyella factory at Tànger/Ciutat de Granada. The Can Koke van is an obligatory presence on such occasions: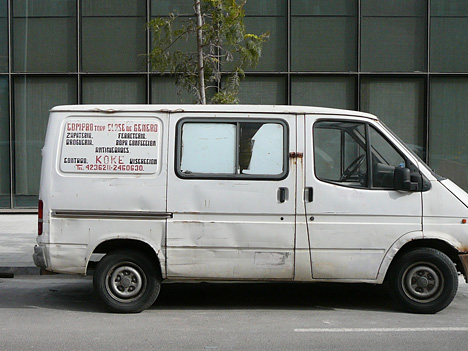 These gents have a retail presence on the other side of the Catalan Glories (smack and stolen cellphones) roundabout, just above the Encantes flea market at 2 de Mayo 195 Their advertising jingle is reason enough to learn Spanish:
A CAN KOKE
NUESTROS PRECIOS UN DISLOQUE.
COMPRE LO QUE CREA FACTIBLE.
QUE MAS BARATO IMPOSIBLE.
NOSOTROS COMPRAMOS EN "SUBASTA"
Y COMPROBANDO PRECIOS BASTA
More some other time on the eclipse of the one auction mafia by the other.
On the hill side of the roundabout the Encantes will soon be evicted, but on the sea side the cleansing is almost complete. Five years ago, on the steep embankment, a hundred illegals would every morning await contractors in search of cheap day labourers.
Now the boom is over, a scattering of junkies, tranny whores and dealers in all classes of goods get on with stuff as the diggers toil behind to make way for a few more flats and offices no one will be able to afford or fill for the next five years.
Romantics will want to compare the sad-fuck T-Systems lives of worker bees a few blocks away to the sad-fuck spring-flower-and-syringe lives of the survivors:
[
See this on this walk or this one.
]
Similar posts