Walk data
| | |
| --- | --- |
| Walking distance | 9 km / 5.59 miles |
| Walking time | 1.8 hr |
Other walks, & more on the way: I've been walking to and from airports for longer than Will Self and the route base will gradually materialise here.
Background & itinerary
Olympic creativity didn't extend to watercourses west of the Lea Navigation,[1]Doc dump: GLA Olympic Legacy doc; Mayor's Olympic Waterways Strategy; 2009 LRAP Plan; last Thames Rivers Trust news update is from 2013 & their link to the River Restoration Centre leads to an estate agent of the same acronym – but no doubt all Olympic money was well spent. and Hackney Brook – still submerged and redirected – continues to mole along more or less as shown in the cover art of Sinclair's Hackney, That Rose-Red Empire: at the end of Morning Lane it diverges from its natural course down Wick Road and travels under the higher ground of Kenton Road and Gascoyne Road past the People's Park Tavern into Victoria Park, where, still heading roughly southeast, it follows the path past the tennis courts, exits by Montessori on the Park at St. Mark's Gate, traverses Cadogan Terrace, and drains into the Hertford Union Canal just below Old Ford Middle Lock, which flows slowly northeast to join the Navigation just south of the German Deli and Crate Brewery.
Things weren't ever so. Diamond Geezer accompanies his posts on Hackney Brook with a handy map of its original course:
What once was cannot be again, but (with apologies to Baron Haussmann) if as well as a Hackney agrandie and a Hackney assainie you want to see a Hackney embellie, then the vertebra provided by a revived Hackney Brook might help dispel the impression that Hackney Council's urban strategy consists solely in facilitating the construction of investment objects.
So here's my seven-point guide to restoring the course downstream from the Mare Street/Amhurst Road/Bohemia Place/Narroway junction to the River Lea Navigation, adding a tentacle to the Hackney Council octopus as well as encouraging citizens to stroll down from Hackney-on-High to Hackney-on-Sea on a Sunday morning:
Wage war on Islington to recover our stolen water
The mighty torrent with bridge and St. Augustine's tower in 1791, viewed from the site of the subsequent railway bridge on Mare Street:
Image: Clapton Square Conservation Area Appraisal, Hackney Archives
… and the pathetic present-day piddle into the Hertford Union, even during the monsoon:
Apologists mutter about storm drains and managed outflow, but the truth is that Islington is stealing our brook at source in Holloway, and probably shipping it to the United Arab Emirates. And look at how they're benefitting: apart from house prices that are even more absurd than ours, they have Arsenal, while we no longer even have Clapton FC, who play in Forest Gate because Hackney is too arid for grass.
This is bigger than the Netherlands vs Germany re traffic and flood management on the Rhine[2]Alex van Heezik, Battle over the rivers. Two hundred years of river policy in the Netherlands is good, full Dutch version (Strijd om de rivieren) is very good., this is bitchier than the squabbling sons of Shem, and we of Hackney have more guns than them. So let's annex Holloway with the calming promise of free boat trips to Westfield, thus safeguarding our water supply, and then one evening I'll be able to present a second plan for the restoration of the brook from its source in Holloway, via Clissold Park, Abney Park Cemetery, Stoke Newington Common and Hackney Downs to Mare Street.

Run the brook between a new bus station and Bohemia Place
The St. John-at-Hackney conservation and management plan says that the brook currently runs in a drain under Arriva's Clapton bus garage (allocation: 100 buses), so having the brook flow along Bohemia Place is the simple option. We suspect, however, that Hackney Council, TfL and St John-at-Hackney will prefer to redevelop the bus station, and it is the counsel of our lords that will stand. Given that, we will build a smaller garage on the north side of the site using some simple variant of VW Wolfsburg's vertical stacking:
The brook will flow between Bohemia Place and the new bus station, which will be skinned as the back of a bus, from the exhaust pipe of which the brook will reëmerge.
Proximity to St. Augustine's tower will be to our intellectual and moral advantage. Like the barrel organ's conversion of boundless sound into a revolving mess of pins, Augustine's Confessions are a meditation on infinity where time is short – in Flann O'Brien's Dalkey Archive, the best commentary on the Confessions, time being represented by aqualungs in a subaqueous cavern:
Then Mick saw a figure, a spectre, far away from him. It looked seated and slightly luminescent. Gradually it got rather clearer in definition but remained unutterably distant, and what he had taken for a very long chin in profile was almost certainly a beard. A gown of some dark material clothed the apparition. It is strange to say that the manifestation did not frighten him but he was flabbergasted when he heard De Selby's familiar tones almost booming out beside him.
– I must thank you for coming. I have two students with me.
The voice that came back was low, from far away but perfectly clear. The Dublin accent was unmistakable. The extraordinary utterance can here be distinguished only typographically.
– Ah not at all, man.
– You're feeling well, as usual, I suppose?
– Nothing to complain of, thank God. How are you feeling yourself, or how do you think you're feeling?
– Tolerably, but age is creeping in.
– Ha-ha. That makes me laugh.
– Why?
– Your sort of time is merely a confusing index of decomposition.
The barrel organ has one of its roots in the kind of simple automated clock (said to be late 16th or early 17th century) found in St. Augustine's tower. Though Flann's Augustine claims that "Book Two of my Confessions is all shocking exaggeration," he might have appreciated the early use in Dutch brothels in the 1680s of mechanical organs, mechanical musical instruments like carillons having been driven out of the churches by the Calvinists, who made the grievous error of introducing religion in their place.
This section's water music from the Singing Organ-Grinder is therefore Cool Water, which seems to have been inspired by Psalms 42:1 (As the hart panteth after the water brooks, so panteth my soul after thee, O God):
Dan's feet are sore, he's yearning for
Just one thing more than water,
Cool water.
Like me, I guess, he'd like to rest
Where there's no quest for water,
Cool, clear water.

Keep a-movin', Dan, don't you listen to him, Dan,
He's a devil not a man
And he spreads the burning sand with water,
Cool water.
Dan, can you see that big green tree
Where the water's running free
And it's waiting there for me
And you?
Kayak to the Paradise Garden: Mehetabel Road and the Chesham Arms
The fashion hub under the railway arches on Morning Lane has no space for a brook or the watercress beds of old:
Image: Ian Scott International
… and so the next section depends on the residents of the south side of Mehetabel Road being prepared to trade the damp end of their garden, up against the railway wall, for a (generally non-navigable) stream. Were they to say yay, then an annual performance could be held of Delius' A village Romeo and Juliet:
At a local fair [Narroway], Sali and Vreli buy rings. Sali mentions an inn, the Paradise Garden, where they can dance all night, and they go there. The Dark Fiddler and some vagrants are drinking there. He greets the lovers, and suggests they join him to share a vagabond life in the mountains. Instead, Sali and Vreli decide that they cannot live such an existence, and they resolve to die together, uncompromising in their love for each other. They leave the inn and find a hay barge, which they release from the dock to begin to float down the river. As the Dark Fiddler observes them, Sali removes the plug from the bottom of the boat, and Sali and Vreli sink with the boat.
The Singing Organ-Grinder has made a version of Wagner's Tristan und Isolde for barrel organ, so Delius should also be feasible.
Singing Organ-Grinder water music? Let us recall the words of an Irish friend at the Eagle, on being asked at which track the horses on which he was betting were racing: "I haven't got a facking clue."

Simpsonlandia: Cardinal Pole School and Flanders Way
Between Link Street and Ponsford Street the brook stays north of the railway, passing south of the estate, and then crosses the railway at the bridge, perhaps flowing along the railway through the grounds of Cardinal Pole School and then entering Flanders Way.
Flanders Way is the southern outpost of Simpsonlandia – Springfield Park, Homer-town, the parish (church) of St. Bart and Lisa Star Nails on Stamford Hill, St. Maggie's at St. Saviour's… Here the brook will host a population of three-eyed fish in tribute to Blinky:
Well Street: regenerated market framed by Jack Cohen Stanley Johnson memorial & hydraulic organ
Well Street needs a well again in some shape or form, partly to provide a focus for a regenerated market. We'd like this to be between Tesco and the excellent butcher. We'd like a smaller version of Barcelona's Agbar tower, which was built by the local water company without the functionality attributed to it in (gay) urban legend – a spout of water emerging from the top:
Image: Axelv
Our version will include this functionality, and will be cut in such a way as to evoke Jack Cohen, who started his Tesco empire on this spot Stanley Johnson, rock 'n' roll drummer, magician, Hackney style icon: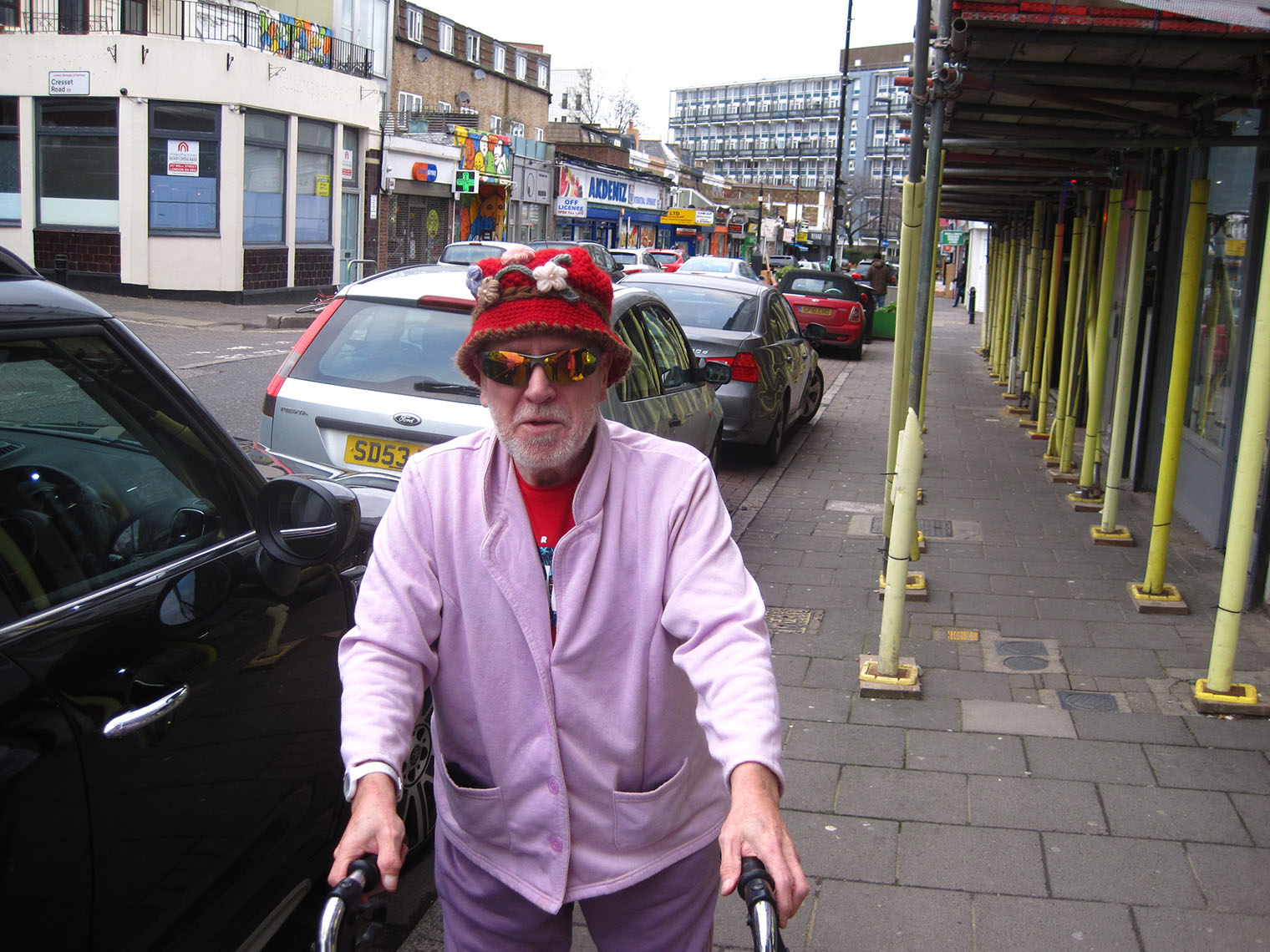 Reduced traffic flow will enable Well Street to extend beyond its current junction to meet the clump of trees on the corner of Flanders Way, and a small circular polyphonic hydraulic organ, driven by the brook, supplemented by the small stream flowing down Well Street, will terminate the market:
Water music from the Singing Organ-Grinder: Little Boy Billy, a maritime take on Sweeney Todd:
Wick Road: sea battles and scampi
Traffic. You only need a tiny fraction of today's cars when they can drive themselves and be waiting for you within 5 mins of booking, and that's just round the corner. For now Wick Road can manage with a single calmed motor transport lane alongside a brook taking up equivalent space. Most traffic currently using that route can be taken up Kenworthy Road, and Homerton High Street can be made essentially one-way westward for the extremely dangerous stretch between Kenworthy Road and Ponsford Street (contraflow for public transport and bicycles), complementing and forming a ring with the one-way eastward traffic on Cassland Road on the other bank of the brook.
This space lends itself to theatrics. In an annual event commemorating a mashup of Battle of Lepanto and the Spanish Armada and Tromp and De Ruyter, or some such, the children of St. Dominic's Catholic Primary will row up the brook and engage in battle the ferocious meat cleaver wielders in the excellent Kuzu shish bar and others along Well Street, with fearful and quite unpredictable consequences. For such events, seafood and other kiosks will line the tall blocks along the increasingly estuarine promenade that is Wick Road – like Venice, before Venice became a rancid tourist hellhole.
Water music from the Singing Organ-Grinder: a censored version of Barnacle Bill the Sailor, sung by the Caribbean pirates at the Prince Edward:
Hackney Wick: the delta
From the Tiger on the corner of Kenworthy Road we'd take the brook down the middle of Wick Road, with a simple bridge at the junction with the A12, and then down the southern side of Chapman Road. From this point, given sufficient current we'd like to split the brook into several less strictly defined courses draining via rice paddies (more Lower Lea Flood Plan washland…) into the navigation respectively north and south of the railway. But we now must depart to watch and eat bangers, and cannot elaborate this eminently sensible proposal any further.
Water music from the Singing Organ-Grinder: the German beach classic, Itsy Bitsy Teenie Weenie Honolulu Strand Bikini:
Ah, rainy Saturdays.
Similar posts