Thanks all for kind wishes. Cake under attack from fish:
Afterwards I got to go walkies, and chose one of the old junkie trails to Can Tunis, made vaguely notorious in rather different form (before they built the freaking motorway and destroyed the old port and beaches) in Juli Vallmitjana's interesting (he helped Picasso get dirty) Sota Montjuïc (1908). The purtiest ceramics on Nou:
The cactus Jardins de Mossèn Costa i Llobera, opened by Franco way back when, were closed because the parks department don't give a sheet about official opening hours, but the holes in the fence are so big that we don't care.
Off-piste, bender of lady-with-alsatian (suitably, given the historico-narcotic ambience, the lady being a dead ringer for Camarón de la Isla, who I don't think had a dog):
In a just world, she would receive subsidies to maintain this echo of the immigrant shanty towns that covered the less visited slopes of Montjuïc for substantial periods of the twentieth century, but that don't chime with official historical memory.
Marginal art (buy now!):
Ah! the sea! Colon, such a useful device: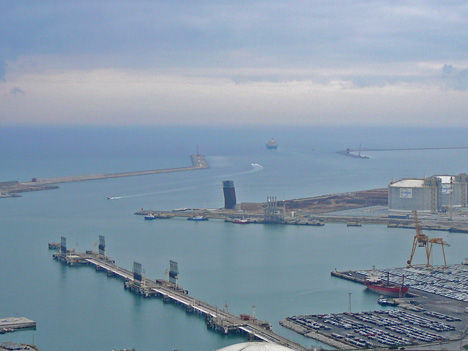 Some clambering. Immaculately coiffed catmen: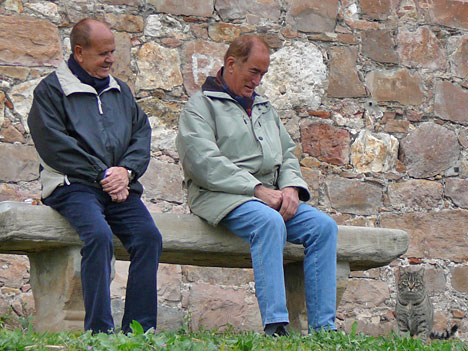 Some beer with the Argies, the tombs of the Condoms, the Malparidas, the raggle taggle gypsies etc etc, drunks and addicts, some theatre, a visit to Quimet's in the company of Messrs C and G & Co: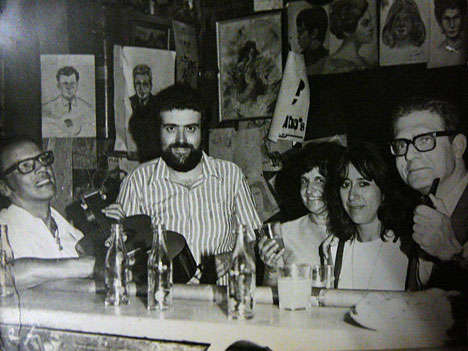 To close, pintxos with the town's finest Lebanese-Greek-English-Russian-Jewish chat-up artist, off to make his fortune in Warsaw.
Looking forward to next year.
Similar posts