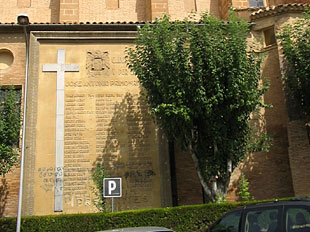 Barbastro memorial to José Antonio Primo de Rivera and other civil war "martyrs"
It is said that, during the 1934-9 civil war, a young and elegant communist leader from Barcelona arrived by limo in Barbastro to "visit" the town's banks, and was shot on the spot by the local anarchists, alarmed at the quality of his suit.
The Aragonese writer Ramón J Sender lost his wife and brother in that same war. In 1939, in exile, he published the novel El lugar del hombre (later retitled El lugar de un hombre). Here's a anecdote from it dealing with the first Carlist war (1833-40), which initiated a long chain of civil conflicts finally officially brought to an end in 1939:
During the night after the battle the women of the village–mothers, wives, of tender family sentiment all–climbed in long and silent procession to the
saso
[high, stony ground] to despoil the dead of their clothes. While they stripped them, they prayed in chorus for their souls, led by the oldest of their number. Then they returned to their houses with their booty, and the army trousers and jackets began to appear on the peasants, altered clumsily by grandmothers who resewed them in the evenings at the fireside. The saso was where the men normally got firewood for the winter. The dead, when they had them, also offered them their clothes, helping them withstand the harsh climate. The men brought down the wood, the women the clothes. All the villagers knew of the problems of the succession to the throne was that the dead Cristinos were better and more usefully dressed than the Carlists.
I remember that one day, walking across the saso with my father, we found, lightly buried and sticking out from between two stunted bushes, a human cranium. My father covered it with earth and we took off our hats and said an Our Father.
Similar posts