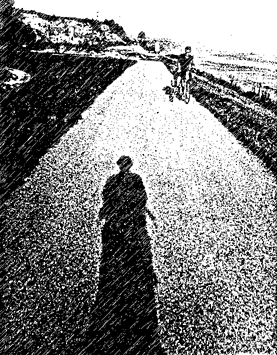 I've already posted Catalan translations of selections from Gerard Monnink (who travelled with Toon Damhuis) and Jan Cremer Senior; Harry Jutten – who cycled from Oldenzaal to Aswan and back between September 1985 and May 1986 – is the last of the quartet of Dutch cyclists who in the twentieth century endangered road-users from Denekamp to Damascus. We join him as he arrives on his ten-speed second-hand Raleigh Silhouette (52/42, 14/17/20/24/28) in Kas on Turkey's southern coast:
There I make a new acquaintance which – as will become apparent later – is of great importance. The man claims to have been the mechanic of the Turkish national cycling team. Proudly he names several names from the Amstel team, which has on a number of occasions taken part in Turkish competitions. It is a wonderful conversation. From the technical terms that he lets fall every now and again I gather that this is not just hot air. He assists me with some lodgings addresses along my route and possible vendors of new tyres.

He also tells me about the the incline that looms just behind the village. It quickly becomes clear to me that it's going to be difficult. The next morning I start in good heart – with iron morale, as it is known in cycling terms. After several hundred meters my chain suddenly slackens. I can't get my feet free because my foot straps are stuck, and I go flying. A few grazes are the result. The damage to my bike appears considerable. I'm a bit scared because all my rear cogs have come loose. I haven't got much of a clue what to do about it. What now? Yes, of course, back to the village, back to my new-found friend. There lies the key to recovery.

Rustemı Gode rubs his hands when he sees that can match himself against a bicycle. New ball bearings are required for the repairs. We go in search of an old rear wheel… We find one, but it contains too few ball bearings. We decide to take the bus to a town two hours away – also a good opportunity in the mean time to check out the route. After some inquiries we find the ball bearings and begin the return journey. With wheel and ball bearings we go to a vague acquaintance, who runs a small car workshop built out of corrugated iron sheets somewhere out in the sticks. There on the workbench I observe how expert hands with improvised tools repair the damage. Beaming with pride – and possibly even happier than I am – he hands me the repaired wheel. What a stroke of luck, this meeting. A ticket in the lottery. First prize.
Harry still lives in Oldenzaal where, playing with Het Stroat Ensemble, he has developed into the most entertaining cymbal player this side of Istanbul. When he wrote this account, he had no way of knowing that in 2003 it would take Google a couple of seconds to rediscover his saviour.
Rustem Gode left Turkey in 1989 and now runs a bike business in Arlington, Ma. He regularly takes American amateur riders to events in Turkey, and I particularly liked this animation of him on his home turf.
Text and photo 1: Harry Jutten, Fluiten in de Keuken (unpublished). Photo 2: Quad Cycles.
Similar posts