I have been up the coast a couple of times this week (off again tomorrow) and I don't think I've ever seen as many spring flowers. Their profusion is partly a consequence of heavy rainfall, and partly of the fires last summer that burnt away heavy shrubbery and young pine woods, clearing the ground. However, wildfires aren't just vital to biological rejuvenation. Look at the fresh growth that has appeared where, until the fires, there was a car backseat: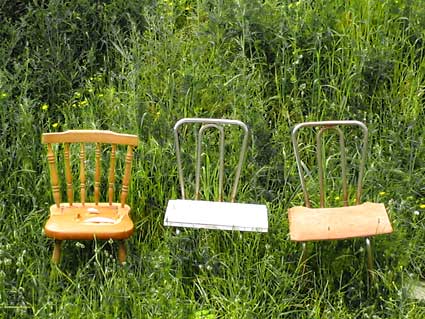 My favourite Iberian poets of spring are the Al-Andalusians, partly because, once they forget about the paradise-garden idea, they remind me a bit of Dafydd ap Gwilym. Here's a verse by Abū Ja'far of Granada, borrowed from H Pérès' La poésie andalouse en arabe classique au XIe siècle, ses aspects généraux, ses principaux thèmes et sa valeur documentaire (Paris, 1953):
Bright spring adorns herself with the mantle of youth to show her indulgence after winter's hardships.
The king of the seasons thanks the earth with rich presents, unfurling his meadows over hill and dale.
With flowers he displays to us his carpet's brocade, and with trees the green weave of his canopy.
With purple dyes the westerly sun gilds the afternoon, and silvers it with the tears of his brilliance.
Contemporary, local Andalusians of pensionable age take a more prosaic attitude to spring than Arab poets or The Comedian Harmonists, and are currently sweeping the hillsides clean of wild asparagus, which is very pleasant when served with a garlic sauce, as in this recipe sent in by a Basque, Aitzol Ezeiza, to this site:
2 bunches wild asparagus
1 tablespoon white flour

1 slice of bread

2 garlic cloves

White wine (optional)

Saffron

White pepper

Cumin

Olive oil

Salt
Boil the asparagus in bunches. While they are cooking, fry the garlic cloves and the bread in a frying pan with olive oil until they brown. Drain and crush them in a mortar with the saffron, the cumin, a tablespoon of the frying oil and a little of water to thin the mixture. Brown the flour in the frying pan and slowly add water, wine (optional) and the mortar mix to provide the sauce. Season it with salt and pepper and let it boil for a few minutes. When the asparagus is cooked, place it on a dish and cover with the sauce.
Similar posts