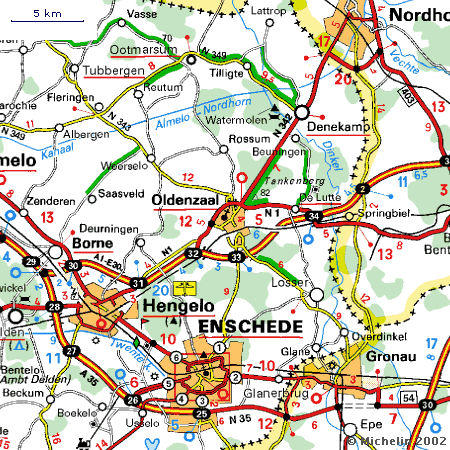 Some of the recent obituaries of super-poet Willem Wilmink (1936-2003) managed to avoid mentioning his writings in Twents, despite the fact that this part of his work – he also translated, wrote and rewrote extensively in Dutch – enjoyed a large following in Twente.
Let's start by locating the two languages. Linguists classify Dutch and Twents respectively as Low Franconian and Low Saxon variants. Click the following diagram and you will encounter a gorgeous applet that will help you understand what that means in practical terms. (Double-clicking most nodes will provide background info in text form.)
There's a certain amount of truth in all this, but the traditionally decentralised nature of northern German society means that there are no simple language barriers out there, and that there are as many classifications as there are classifiers. Put simply, many speakers of Low Saxon and Low Franconian dialects would have viewed the development of worthy institutions like l'Académie française as a less useful way of expending their time and energy than getting drunk and laid in their own or – preferably – someone else's village. And stuff like that. And when they finally made it home, they described their experiences in rhymes, songs and stories in which the problematic relationship between lust and genetics in swamp villages and isolated forest settlements is never far from the surface.
I think that the strength of popular literary expression in northern Europe is an important reason why industrialisation, urbanisation and the growth of the modern state led to less cultural greyout in Holland and northern Germany than in France and Spain. However, the concentration of work and leisure in towns as opposed to inaccessible villages did give rise to important changes. In Holland, for example, a conglomerate of Friesian and Dutch grammar and vocabulary arose which people called Stadsfries – urban Friesian. A similar development occurred in Twente and when Goaitsen van der Vliet, an orderly Friesian with a fondness for spelling rules, published Willem Wilmink's 1992 collection of poetry, Heftan Tattat!, it was subtitled Poems in Urban Dialect.
Now, there is no doubt that there exists a semi-standard urban Twents, formed in a similar fashion to Stadsfries, and spoken by young people in bars, factories and offices. However, unlike Catalans, poets in Twente don't generally write poetry in order to drive home politicolinguistic points. As van der Vliet subsequently wryly acknowledged, Wilmink wasn't writing so much in a standardised Stadstwents as in one of the many ephemeral dialects that sprang up in the twentieth century from the combination in Twente's textile and metalworking districts of dialects from up, down and across the border:
This little book is written in the Enschede dialect. To be exact, it is Kupersdieks, because they don't talk the same town dialect everywhere. In Pathmos, for example, it's much more Drents. Kupersdieks was spoken more or less round the Kupersdiek [Kuipersdijk] and the Javastroat [Javastraat], the neighbourhood where Willem Wilmink grew up in the years 1936-1954.
I'm sure Wilmink didn't see it in these terms, but in some ways Heftan Tattat! constitutes a tribute to the vibrancy of popular writing amongst this particular bunch of Low Saxons. Here's a classic Enschede poem from the collection, followed by my translation:
Eanske
Eanske is onmeunig mooi.
Eanske is onmeunig mooi.
'Joa, oons oalde Eanske,' zeg mien moo,
'is hoast net zoo mooi as Almelo:
Eanske is onmeunig mooi.'
Warsall
Warsall is a luvverly towun.
Warsall is a luvverly towun.
'Warsall, my son,' said my old mum,
'is almost as luvverly as bits of Brum:
Warsall is a luvverly towun.'
Similar posts